Anne de Boismilon
We knew each other through that « sea-monster » and mutual friend Frederic de Towarnicki and wrote together a bestseller on Les Filles de Madame Claude (The Pink Squad of Madame Claude) (Julliard/Stock). Later, we travelled a lot, writing articles for Lui, Play Boy and working for French and Iranian TV.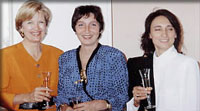 Our journeys to the States in 1976, and to Israël, twenty years later (photo) have been specially full of emotions and discoveries. It was a time of joy, youth, harmony over about twenty years. Author of a TV show on the Foreign Legion, later, producer and international reporter at CBS Sixty Minutes, and then ABC, Anne de Boismilon lives today in Vienna, where she married, after two days of a splendid feast: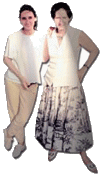 Left, with her American friend, TV star Diane Sawyer ; on the right, I am entering Pallavicini palace for a wonderful dinner, on the arm of Duke d'Uzès.
Of anyone that I've met, Father Boisset, Rector of the Faculty of Religious Sciences at the University Saint-Joseph of Beyrouth, most embodies for me one who is both beyond his time and a man very much for these times: he lives daily the

Jesuit adage of contemplation in action. You feel, living around him somehow, the eternity of the moment, and, in that moment, he makes you feel your deep truth. He fluctuates, usually, between a charming Pierrot, miles away, and a saint, having at the same time his feet firmly on the ground, with a great sense of the « here and now ». The Beirut sojourn he offered me, when he invited me for a week of conferences, with the discovery of these places of dream and threat, the seduction of that broken, reconstructed, enthralling city, moved me deeply and for a long time. As for the delicious dinner on the sea, in that restaurant of « mezeic delights », with dear Father Olivier Borg-Olivier, s.j., whom I met in former days on the heights of Rome, its image remains much more present in my heart than all these people in the gaping void under its mantle.

Si Hamza Boubakeur was a witty and generous man, from the plateau of the high Atlas mountains, light years away from today's sectarian divisions, which he would have found pathetic. I knew him when I did an interview with him, as Rector of the French Mosque in Paris, in 1969 for my first book, Ave Lucifer.
Born in 1912, « agrégé » in Arabic language and civilization and author of a French translation of the Koran, Si Hamza became in 1957, by decree of the President of the Cabinet Guy Mollet, Rector of the Mosque of Paris founded in1926, in tribute to the Muslim victims (about 100 000) of the First World War, who fought for France. Member of the Conseil consultatif constitutionnel (advising the Government and ensuring the respect of the constitution) in 1958, deputy, vice-president of the commission of Foreign Affairs, representative of the French Government in South Arabia, senator from 1959 to 1961, author of a Modern Treaty of Muslim Theology (Maisonneuve et Larose, 1985), having directed for almost a quarter of a century the Mosque of Paris (till1982), he was the father of the present Rector, Dr.Dalil Boubakeur.

For the publication of my book, in November 1970, he invited me to bring to the restaurant of the Mosque as many journalists and people as I wanted, "to be, in a mundane way, united in sharing couscous and salt". There were around twenty of us, among whom was the delightful Father Gesland, Exorcist of Paris Archibishopric. Afterwards, I went quite often, in order to discuss all kinds of subjects with Si Hamza, and even participated in a wonderful mechoui with Iran Ambassador Pakrâvan. This Pakrâvan had a sad end : impressed, it seems, by the extraordinary spiritual qualities of a certain imam Khomeiny, whom he visited in prison, he asked the Shah to reprieve him and to exile him to Iraq. But when the spiritual imam arrived from France, where he lived at Neauphle-le-Château (thanks to President Giscard d'Estaing), his first victim was… Pâkravan …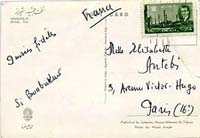 Si Hamza called me the 'friend of the evening', or « Nejma Leila » (star announcing the night) and he wrote me many jaunty letters (I was travelling a lot at the time) ; we saw each other again in the early 1970s in the spa town of Contrexeville, where my father used to go yearly. The two men had a great respect for each other. His last letter, written in this flowery and affectionate style that I liked so much, was an response to my wishes for a very Happy New Year 1975:

Dear, dear Elizabeth,


What a wonder that you decided finally to give me some little sign of you! So, there you are! With no special reason indeed, you have decided once to abandon me in the museum of oblivion, when, in my memory, you still remain so alive and lovable. Our good memories and evenings of relaxation in Contrexeville seem to mean nothing to you, as suddenly, without rhyme nor reason, you unroll the blanket of silence between your friends and yourself. You are nothing but an unreliable so-and-so, but I say it with a smile because I'm not really angry.


Therefore, from now on, I'll call you « my flashing friend »: you appear and disappear in the clouds, night and day. But I don't forget you and too bad for you! It's the reverse side of friendship! Indeed, one carries it around, consciously or unconsciously, like the millstone of fate round one's neck, but, as heavy as it might be, it can be good because, when friendship is deep and true, it's a privilege all your life. Your kind of friendship is like these loving butterflies, living just a few hours in the ecstasy of the spring. I believe that the spring is not your best season and that one has to wait for the day of the new year to hope for some reminiscence from you.


Anyhow, you are beautiful, alive, curious, a teaser, changing and I remain, with your agreement or not, your friend.


And your father, give me some news? And your project of marriage? And your literary explorations?


At the dawn of this new year, I wish you what I wish myself, the pleasure of seeing you as soon as possible.


Yours,


Si Hamza Boubakeur


Si Hamza Boubakeur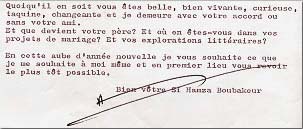 I feel indeed guilty about that butterflies instinct and foolishness to which I was often prey in the 1970s, which made me blind to what was not my pistol and my perfume, to my best and most sincere friends, the kind that you never find again with the same intensity.

Si Hamza who loved France so much, was severe with me only once : it was an evening, when I was quite critical of too much talk of religion by Orthodox Jews that we met on the road. In the concentration camps, he said, only people believing in something bigger than themselves and following a higher law could fight and often survive …