Pierre Tardon
The son of Manon, Resistance fighter and a fiery nature, who, when sitting outside for lunch in the garden of his charming house, North of Martinique, used to shoot snakes with a gun, Pierre was also the grand-son of writer Raphaël Tardon, author of La Caldeira, a superb novel based around the eruption of a volcano at the beginning of the century. I rode his motorbike many times to visit the island, and we swam at the inlet of Cabri.

Too much caviar and shared pleasure appealed against his condemnation for treason and banishment from my memory. One of the most aesthetic and refined publishers of his time merits probably here some lines of sorrowful homage. Because my memory is bitter-sweet. I knew him at the top in his offices on rue du Mail where he had just produced Leonoer Fini's erotic drawings on Histoire d'O. I had had an accident in my taxi on the way, he told me to lie on the floor and gave me a massage, walking on my lower back. Such a beginning presumed a quite original relationship. In 1977, when I was working for a magazine called VSD, he asked me to fly to the West Indies, to direct for him a multivolume Encyclopedia Arawak. I did it with the help of the wife of the head of the gendarmes at Fort-de-France, Josette Demetz, who was the director of the publishing company over there, and of my dear Katleen Wallerand, as well as of Emile Hayot who lent me his house, to read and photograph the books he had. I found recently my « telegram » (the fax didn't exist at that time) to Tchou, which was so long that I had to type it myself at the post office of Saint-Martin, the 16th of November 1978. I was furious not to be paid well for the huge work I had done, to see the delays, and so on. Later, I often went in order to support my Scorpio friend : his refinement, his perspicacity, his twists and turns seduced me. I thought I had imagined the dark zone of his personality. Was it just a dream?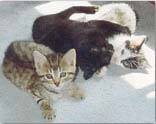 So small, abandoned, with her brother and sister, when we saved her, my daughter Charlotte and I, from the tortures of the children of the Club Mediterranée at Pompadour, south of France. When I left, she jumped into my arms. I kept her and she is the sweetest of cats, she talks all the time and she nibbles inside the ears (to wash them) of her dog, Charmant who raised her.
The last image I have of Roland, is when he lay on my staircase to play with my daughter and my dog. Then, we left for his "canteen" of the time, La Table d'Anvers, a very good restaurant near Pigalle. Walking in Montparnasse cemetery, following the path, I happened to come across his grave, with, in an ashtray, his pipe. I cannot think of Topor as somebody dead. He was such a long time a dreamlike companion, from the time I wrote about him in one of my first articles, in 1968, in Le Magazine Littéraire, discovering his talent as cartoonist, filmmaker, writer, great artist. I even introduced him to his future wife, Fabienne Deval, whom I knew as a little girl at the Lycée Molière. He drew me already old, as a punishment…for what ? I don't really remember. He gave me so many notes and drawings, dedicated books, with this apple – the core being an Eve towards which a hand is pointing its snake's bite. It was also Topor who drew the jacket of my first book, Ave Lucifer, and who shared with me many explorations and discoveries…
In our lives there are legendary, even mythical beings. Frédéric, whom I used to call « The Iguana » because of his eyelids, and who found for himself the pet name of « The Satrap with his thousands of provinces » or « The secret advisor of Madame Ming », was one of those. A poet, a journalist, an explorer of the invisible, he invited me, one evening when we had stayed late at my office, at the Express, to come to his flat and he would buy a wonderful wine, the Wine of the Monks. In his mouth, this Wine of the Monks took the dimension of a divine drink reserved for the Gods of Olympus. It was just before the events of 1968 in the world, and we were both very interested in the « Prague Spring Revolution », Solzhenitsyn, or what was brewing up in Poland … The son of a Polish noble, Frederic, came to France as a five-year-old with his mother and was raised in Nice by Jesuits. He wrote the scenario of Harry Dickson for the movie maker Alain Resnais but the project was shelved. He was 25 years old that year. And it was precisely during that year 1945, that he met the man who changed his life : cultural coordinator of the Army division of the Rhine et Danube, and in order to prepare a meeting between philosophers Sartre and Heidegger, he went to the Black Forrest to talk to the German philosopher whose Sein und Zeit had dazzled him. He had reviewed it in Les Temps Modernes, but, for more details, we had to wait half-a-century before reading what Towarnicki wrote about his "memories of a Black Forrest Messenger", Les Souvenirs d'un Messager de la Forêt Noire. After that, he met the poet René Char, and Hannah Arendt. He told of his last readings to a bench of adorable blue-stockings whom he called the Spitzberg Schule. I called each of them "Black Moon", "Red Moon", "Moonlight" or "Moon of absinthe"… Frederic was an author of fados, I am seduced even now with his warm voice, his saurian eyes and his coffee falling on your knees:
The street leads to the end of the street
And then goes
As she went
And my life is what one makes of her


Or :

They worked the iron
With the white of rainbow
And their salt dolls
Went down to the sea.


(poem written in 1942-1943, alluding to the times of Nazism, for the French original version, look at the web site into French).

Astrophysicist, writer, Jules Verne Prize Winner as young as 22 years old, living in the States since 1962, Ph.D. in informatics from Northwestern University, specialist in flying saucers, author of thrillers, Jacques Vallée, born in 1939, is really somebody who cannot be reduced to a summary. With a long, taut face, silver hair of silver fox, grey eyes, rare movements, he is allergic to pollen and feather pillows. Today he is an investor in venture-capital, sends from time to time a "Letter from California" to the French journal Le Figaro, and lives in San Francisco. We shared moving and inflamed moments when I was visiting the States for my books and articles, and he advised me to write my article on venture-capital. He is one of the rare people able to establish a bridge between the shores of the Atlantic, the Old and the New Worlds, and to let open the door for dreams.
His web site : http://www.jacquesvallee.com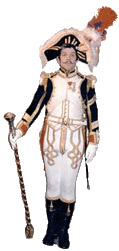 My neighbour Hervé sells books and creates splendid dioramas – those boxes under glass with a lot of people doing a lot of things inside. Faithful friend, he has always answered « I'm here » for more than fifteen years now, when I ask him to keep an eye on my house or to share the happy and sad daily episodes of life.
Author in 1925 of The Great Parade about Americans during World War I, film-director who praised the individual and his conquests, or, in 1928 felt compassion for the individual ground down by The Crowd, King Vidor (1894-1982) was one of my favourite moviemakers when I arrived in California for the first time, in the early 1970s. I loved particularly his adaptation of Tolstoy's War and Peace (1956), and have seen Salomon and the Queen of Saba (1959). I met him, he was a delightful man, and we had such a magic day talking about his films. In contrast to Fritz Lang – whom I also met – Vidor was at peace with himself, of course a little bit sad to no longer be able to shoot a film (because of the insurance companies), but happy to see me such a fan of his work. He had the feeling of accomplishing what he was there to do.

International reporter at the Corriere della Serra, Silvano was also in Iran in 1971 for the feasts of the Shah in Persepolis. The evening, for the "sound and light show", we were both dressed very smartly, in tuxedo and evening dress. Therefore, the security people steered us in the direction of the princes' (and not the journalists') rostrum, which gave us the chance to watch closely the Grandees of our world. I will tell that story in a book I'm writing, called A French Mad Hatter.



Vladimir Volkoff

Born in Paris in 1932, Volkoff prides himself on being Orthodox and of Russian origin. Former Secret Service officer, specialist in disinformation, he wrote on the topic in L'Agent triple (« The Triple Agent »), Le Retournement ("The Reversal"), Le Montage ("The Arrangement"), among many other books. When I was managing the publishing company Hologramme, he accepted my invitation to write the preface of a book on the Foreign Legion, with photos by Jane Atwood. Thinking it would set a wonderful seal to this collaboration, I invited Vladimir for a lunch with Jane, and also my friend Anne de Boismilon who just had completed a TV film on the Foreign Legion. Alas, alas! We saw – and Vladimir listened to it in amusement – our two Royal Cobras confronting each other, eager to be the only one to know everything about the Legion. He recently published, in the same publishing company as I used for Rothschild's book, a very exciting "how to be politically correct", Manuel du Politiquement Correct